Bistro Hours
Monday-Sunday from 12-3pm and 5-8pm
Select appetizers are available from 3-5pm
Effective April 30th: all dining is outdoors on our patio or tent
Please call ahead to make your reservation! 
509-682-2882
Vin Du Lac Bistro has its our own vegetable and herb garden to offer you the freshest dishes possible.
The restaurant menu is updated quarterly to highlight seafood, foraged and harvested foods, fresh cheese and other delicacies as they come into season.
Family Friendly  | Outdoor Heated Seating
JOIN US!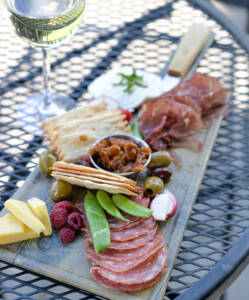 Reservation Policy
Now taking reservations for parties smaller than 10 people
See note below for groups of 10 or more.
CALL US! 866-455-9463 EXT. 0
Wine Club Members
Please call us by 5:00 pm for priority seating!
Groups of 10 or more
We always do our very best to seat groups of 10 or more near each other, however, due to our limited outdoor space, it is possible groups with more than 10 will not be seated at the same time. Thank you for your understanding.
Catering
Vin Du Lac's lovely grounds and patio overlooking Lake Chelan are available for your wedding, event, private dinner or private wine tasting. We are now taking reservations for summer 2022.
More Info.